Wild & Free is a youth group for anyone in 6th-12th grade.  We meet in the church on Wednesday evenings from 6:00-7:30.  In this time we share in a lesson, some fun games, and fellowship with other Christians.  In this group we accept everyone for who they are, and strive to create a positive, safe environment where youth feel comfortable being themselves.  The goal is to do all of these things while growing closer to God, and each other.  To be a part of our group we don't ask or expect that you are a perfect Christian, or a perfect person.  We do ask that you come with an open mind, and a willingness to grow (or start) a relationship with Jesus Christ.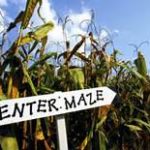 If you are in 6th-12th grade and need a break from school, and
sometime to fellowship with us, you are welcome to join us as we
have our first Sunday Funday for the school year. We will meet at
the church at 3:00pm on Sunday, October 22nd. We will travel to
Robinettes to journey through their corn maze, then enjoy cider
and donuts before returning home. The cost is $7.
Hope you can join us, and remember friends are welcome too!